A wonderful milestone for an author who scorches ereaders everywhere.
Nice Ladies, Naughty Books
This week marks a milestone for me as my 55th story releases! With my Scoundrels short story, Over the Threshold (what an apt title), I have officially published 55 books. I CANNOT believe it. I've counted, then recounted and counted again…and yep, I come up with 55 every time. It's an indescribable experience as I look back from where I started until now.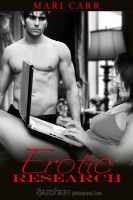 I recall with great fondness receiving the email from my Samhain editor, Immi, as she said, "You know…I like Erotic Research. If you'd be willing to change XXX and XXX, I think I'd like to contract it." I had no clue what a revise and resubmit offer was, but I changed every damn thing she said. Sat in front of the computer for HOURS straight, fixing that story. Then sent it back to her less than two days later because I was afraid she'd change her mind!…
View original post 691 more words